Hextris (2020)
Hextris: it's like Tetris but with hexagons and teleporting.
------------ DEFAULT CONTROLS ----------

Move --- left, right and down.
Fast Drop / Teleport Drop --- Up Button.
Spin --- Z and X
------------ OPTIONS ----------
You can:
Customise the controls,
Turn on/off the camera shake,
Turn on/of icons to help identify the pieces.
------------ NOTE ----------

High-score saved on game over screen.
--- POINTS ----------
1 Line: Level x 1 pt
2 Lines: Level x 4 pts
3 Lines: Level x 10 pts
4 Lines: Level x 50 pts
Level Bonus: Level x 100pts
--- Still to do:
Add sound.
Balance speed increases.
Comments
Log in with itch.io to leave a comment.
I have found a bug...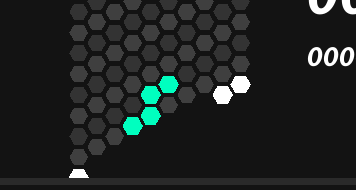 So creative. new generation Tetris.
The idea is cool, an original approach to the figures. restart button is lacks at the end of session
Interesting game and new iteration of old idea, I liked it. Would be nice to see 1 or 2-hex blocks (could be rare)
The game is now unplayable for me, I can use the options part but can no longer start the game.
I think there's sometimes issues with the webgl implementation, where it stops reading key presses (not sure what causes it). If it is this problem that's occurring for you, I've found reloading the page, only clicking on 'play' then not pressing anything else until the game is fully loaded might help.
Sorry this does not work for me.

EDIT: I found that hitting the fast drop key after clicking play starts the game
EDIT 2: Restarting the browser rather than reloading page can sometimes fix it.
Very cool take on the tetris style! Did you ever consider making the bottom of the board a "V" shape (either right-side up or upside-down)? I like the variants of pieces this lends itself to.
I originally had a v shape, but it's visually difficult to track which hexagons are on which line when that line is a 'v', so I changed to the diagonal.
How does the point system work? I have noticed one line is +1 and 2 is +4 but are there any other rules?
I've added more descriptions to the page.
Nice implementation. I kept mixing up drop and rotate. Would be nice to be able to configure the controls.
Thanks - will look at adding some options in the future
Thanks so much for adding the controller options. Much more playable for me now!!!
Glad you get to enjoy it now. Out of curiosity what controls do you use?
I made space the drop button, and use up to rotate right. I think I could get used to having two buttons to rotate, but maybe not without a controller. I don't use down, so I could have made that drop, but it feels more natural to use my other hand.
I agree with this, I made the same mistakes at first but now I can play this and not the original! Could you also consider adding a pause button? Sometimes I need to pause the game.