Hear Hear Tennis (2018)
A downloadable game for macOS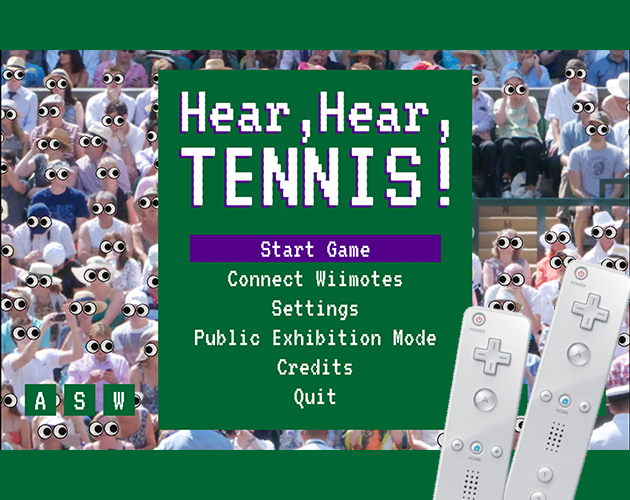 Play tennis with your friends, hands and ears. Listen to the sound to work out when to strike and choose how hard you're going to hit the ball.

Playable with wiimotes (mac only) and keyboard.
-Still working on getting a PC version up and running-
Has in built public exhibition mode, which removes the 'settings' and 'quit' options from the menu, so you don't need to worry as much with people messing with things.
- Credits -
Game by David King (@dr_d_king)
Made with Unity
- FromTextToSpeech.com -
- Freesound.org -
sandermotion (Applause 277020)
skyraevoicing (Female_Grunting_for_Games 368842)
singintime (Forehand_Close 170627)
timmy_h123 (whoosh_01 160500)
- Fonts.Google.com -
Peter Hall (VT323)
- Flickr.com -
Tim Schofield (Novak Djokovic playing Andy Murray)
Install instructions
If you want to use wiimotes to play, make sure they have been paired with your computer before loading the game.
Most issues can be solved by turning the wiimotes off and on again before reconnecting, but it may be necessary in some instances to also close the application and restart the game.